What is Nordic Walking?
First and foremost Nordic Walking is FUN and EFFECTIVE!
Nordic Walking is a walking technique using specially designed poles. It's not "just walking with poles" it involves a specific learnt technique of using the poles and engaging areas of your body that through modern day living, you may have forgotten about e.g. your core. Learn the technique and enjoy the BENEFITS….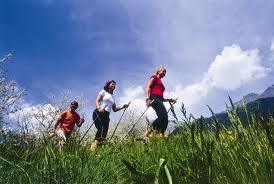 An all body workout
Functional uses 90% of muscles
Burns up to 40% more calories than ordinary walking
Ideal for neck, back and shoulder problems
Reduces pressure on knees and joints
Effective cross training technique for sports people who require ultimate cardiovascular & endurance conditioning
Ultimately if the technique is used correctly the poles will propel the walker along, making it easier to move faster, than normal without feeling the effort. SIMPLE!
Who is it for?
The beauty of Nordic Walking is that it is for EVERYONE! Really Nordic Walking has something to offer everyone from the young to the not so young, the couch potato to the athlete, from the not so fit to the fit and those suffering from joint pain.
For the fun loving, sociable exerciser!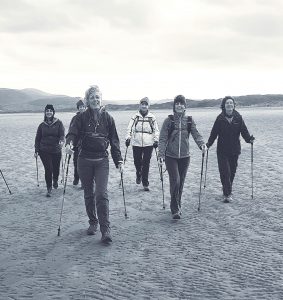 If you….
Hate the Gym
Exercise with nature
Want to feel more toned
Improve your health and fitness
Feel lethargic and sluggish
Want to lose a few pounds
Want to learn an effective cross training technique
Then Nordic Walking is for you.
How do I learn to Nordic Walk?
Learn to Nordic walk by joining one of my technique courses, workshops or take private tuition. Once you have learnt the technique, you can continue Nordic Walking on your own, join my weekly club, come along on my monthly Adventure Nordic Walks, attend an occasional Booster workshop.
Interested in Nordic Walking?
First and foremost Nordic Walking is FUN and EFFECTIVE! Please contact us for more information…