The Award Expeditions
Duke of Edinburgh  Stress free D of E expeditions form Mountain Sojourns!
Let our experienced and talented instructors help support or organise your expedition training programme. We can work collaboratively to support you or you can out source the expedition to us the choice is yours.
Programme elements include:
Thorougher and efficient pre- expedition training delivered at your location and /or the Mournes.
Assistance with all aspects of DofE paperwork including risk assessments and green forms.
Further training and supervision from experienced and qualified staff during practice expedition.
Accredited assessors for the qualifying expedition.
Free use of high quality, light weight group equipment.
Training materials and handouts for all participants.
Organisation of campsites and supervisors accommodation if needed.
Campsite Fees
Group Equipment Provided:
Group Shelter
First Aid Kit
Stoves, pans and fuel
Maps and compasses
Other equipment that can be hired:
Boots
Sleep mat
Rucsac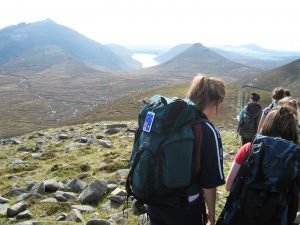 Sample Programmes that will cover the expedition framework:
Contact us to discuss your requirements and to receive a competitive quote.
Bronze
2 pre-expedition training, 2 day practice expedition and 2 day qualifying assessed expedition.
Silver
2 day pre-expedition training, 2/3  day practice expedition and 3 day qualifying assessed expedition.
Gold
2 day pre-expedition training, 3 day practice expedition, 4 day qualifying assessed expedition. Gold assessed expeditions can be organised at home and abroad depending on group needs.

Open Gold Expedition
Mountain Sojourns Offers Gold expeditions in the Mournes, Wicklow and Chamonix, France. Get in touch to see what s currently on offer.